Machine automatique de moulage par injection de PVC
1. Bole pvc série caractéristiques standard
1, mécanisme à bascule double à 5 points verticaux
2, système d'injection d'équilibre de double-cylindre
3, injection multi-étape de pression et de vitesse
4, dispositif de réglage de contre-pression
5, protection contre les moisissures à basse pression
6, knock-out hydraulique multiple d'éjecteur
7, dispositifs de sécurité mécaniques et électriques
2. Instructions de produit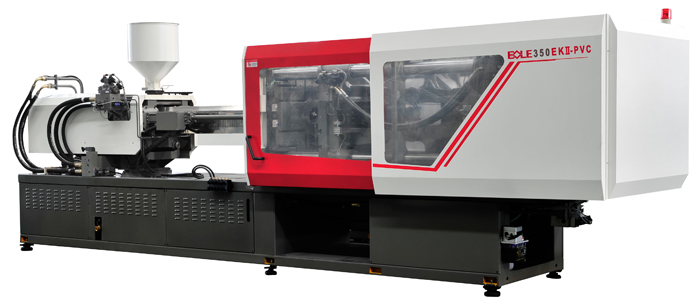 Structure de serrage de centre de fût
■ Utilisation de la force de serrage à 100%, 10% -20% plus élevée que la structure à bascule traditionnelle.
■ Moins de possibilité de flash, sauvegardez le travail d'ajustage du flash.
■ Enregistrer 2-5% de matériel.
■ Offrir une bonne protection aux moules, aux plateaux et aux tirants.
■ Course d'ouverture 10-20% plus longue.
Structure traditionnelle
■ Avec un fort gaspillage de force de serrage, seulement 80-85% d'efficacité.
■ Déplacer la platine avec une déformation évidente, provoquer des éclairs, gaspiller du matériel et réduire les clignotements.
Injection unit
Unit
BL350EKII-UPVC
Screw diameter
mm
60
65
Screw L/D ratio
21.6
20
Swept vloume
cm3
910
1065
Shot weight(upvc)
g
1092
1278
Shot weight(upvc)
oz
38.5
45.1
Injection pressure
Mpa
200
170
Injection rate
cm3/s
249
292
Plasticzation capacity (upvc)
g/s
48.3
61.5
Maximum screw stroke
mm
320
Maximum screw speed
rpm
129
Clamping unit
Clamping force
kN
3500
Opening stroke
mm
660
Space between tie-bar (HxV)
m×m
710 X 660
Minimum mould height(T-slot)
mm
270(225)
Maximum mould height(T-slot)
mm
690(645)
Maximum daylight
mm
1350(1305)
Ejector stroke
mm
190
Ejector force
kN
62
Number of ejector pin
pc
13
Power unit
System pressure
Mpa
16
Pump motor
kW
37
Heating capacity
kW
18
Number of heating zones
4+1
Number of cooling fans
4
Others
Oil tank capacity
L
480
Machine dimension(LxWxH)(Apr.)
m×m×m
6.8 x 2.0 x 2.3
Machine weight(Apr.)
Ton
10.8
3. Cas des clients
Machine automatique de moulage par injection de PVC


4. À propos de Bole Machinery
Bole Machinery a sorti la nouvelle série de moulage par injection, une nouvelle série de machine de moulage par injection électrohydraulique à deux plateaux et une machine de moulage par injection électrique avec l'appareil de la première technologie européenne et de l'innovation auto-dépendante. Le mélangeur par moulage par injection, qui est appliqué aux dossiers d'automobile, de transport, d'emballage etc., particulièrement pour le dossier d'automobile, fait à Bole Machinery le producteur unique en Asie. Il fournira la solution pour les pièces automobiles légères avec l'appareil de la fibre de verre longue, fibre de carbone etc.
Le premier équipement de traitement du monde